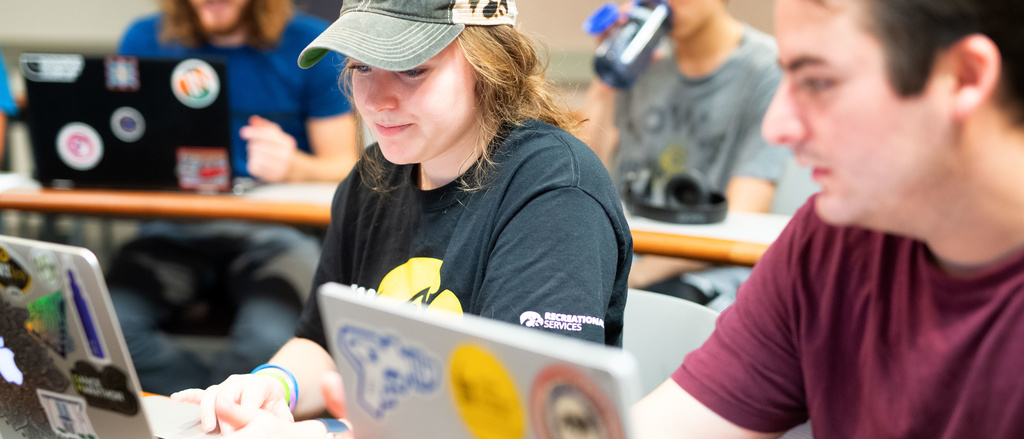 Honors and Research-Focused First-Year Seminars
Fall 2024 
Click here (link coming in summer 2024) for a full list of First-Year Seminars
Research-Focused First-Year Seminars
Course Number and Titles TBA
Honors First-Year Seminars
Honors AND Research-Focused First-Year Seminars
Course Number and Titles TBA
What is an Honors First-Year Seminar?
New first year students in the UI Honors program, who begin taking classes in the fall semester, are required take an Honors First-Year Seminar during their first semester at the University of Iowa (these courses are limited only to UI Honors students). Often students think honors courses are more work and consequently harder than non-honors sections – similar to high school AP classes: do all the work a regular class requires, and then do additional work to make it AP. That's not how honors works at the university level. It's actually the students in the honors sections that make the biggest difference. Put a group of motivated and serious students all together in one class working on the same problems, and you have a major ingredient for a supercharged learning environment. Add an instructor who is knowledgeable and excited about the course topic and who allows the students a strong voice in how the learning is to occur, and you get the ideal honors environment.
Ask students in that class if it was more work or harder, and you'll get answers such as, "No, not really more work or harder – just different." Ask the instructor if the students were required to cover more material and were challenged more than in a non-honors section, and you're likely to hear that what they did do was go deeper and broader with the topic. Students may have accomplished more and engaged in more challenging activities, but it did not come across as more work or as harder. Rather, it was an engaging, meaningful, and rewarding challenge on a relevant and important topic. Also, fun, and an easy way to build community with other honors students and faculty. That's an Honors First-Year Seminar!
Students must be part of the UI Honors Program in order to enroll in an Honors First-Year Seminar.
Of note, some Honors seminars are also offered as research-focused seminars, so be on the lookout for these as well.
What is a Research-Focused First-Year Seminar?
Research-Focused First-Year Seminars provide students with an opportunity to learn firsthand about the nature and process of university research and creative scholarship at the University of Iowa. Research-focused FYS's also allow faculty to engage students in asking and answering research and creative questions. Any new first year student can enroll in a research-focused First-Year Seminar, and no prior knowledge of or experience with research is necessary. In addition, these courses cover a wide range of topics and disciplines so there's a seminar for everyone!
In a research-focused First-Year Seminar, students can expect that instructors will incorporate the following strategies into the learning experience:
define what research is in the context of their own investigative or discipline-specific work
describe the research methodology they use in their research or creative practice
with instructor guidance, students will develop a research question
Students also visit a research site, either on or off campus. In addition, many instructors also choose to participate in the First-Year Seminar Poster Session. In this event, held in late October, students have an opportunity to demonstrate what they have discovered by participating in a First-Year Seminar Poster Session. This is an incredibly unique learning opportunity for new first year students as very few students participate in a poster session so early in their college career. 
---
Looking for a list of Honors and Research-Focused First-Year Seminars?

Select "First Year Seminar" or "First-Year Seminar- Research" in the Course Categories search box of the Courses/Registration page on MyUI or search key word "First-Year Seminars." First-Year Seminars are offered only in fall semesters.